12月4日(月)~ ユートピア第2リフトは、滑走には不十分な積雪のため 『 運 転 休 止 』 とさせていただきます。また、ザンゲ坂樹氷コース・ユートピアゲレンデ・百万人ゲレンデ・横倉ゲレンデ・黒姫ゲレンデ・大森ゲレンデは『 滑 走 禁 止 』とさせていただきます。ご了承下さい。
ZAO
Visit the summit to experience the awe-inspiring power of nature with all your senses.
Spring is a lovely time, which allows us to encounter newly-awakened animals and plants. In summer, the night sky sparkles with countless stars. Autumn covers the mountains with red leaves and their aroma. Winter brings forth the frost, painting the trees white and creating a wondrous silver and white scenery. All four seasons offer soul-shatteringly beautiful, mighty vistas. Besides, each of them provides an opportunity for various activities. Visit Zao to experience the breath of mighty nature with all five senses.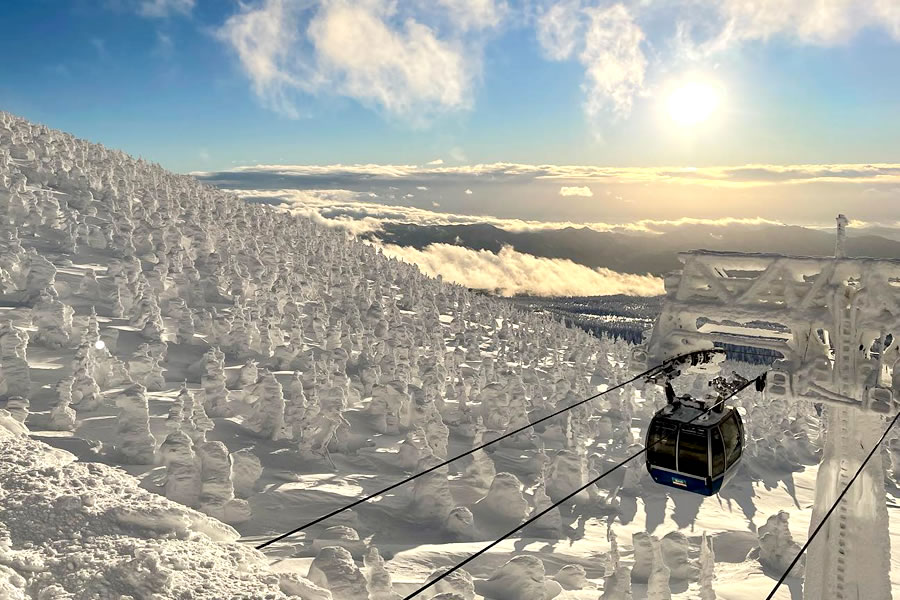 Winter Season
Winter is the essence of Zao's attractions. Visitors come unceasingly from around the world to see the frozen trees,
and the stars glimmering in the clear winter night skies. Zao in winter becomes a fantastic world of mystery and wonder,
silently spreading across the landscape. And of course, we offer a rich selection of
activities available only in winter, from skiing to snowboarding, to snowshoe trekking.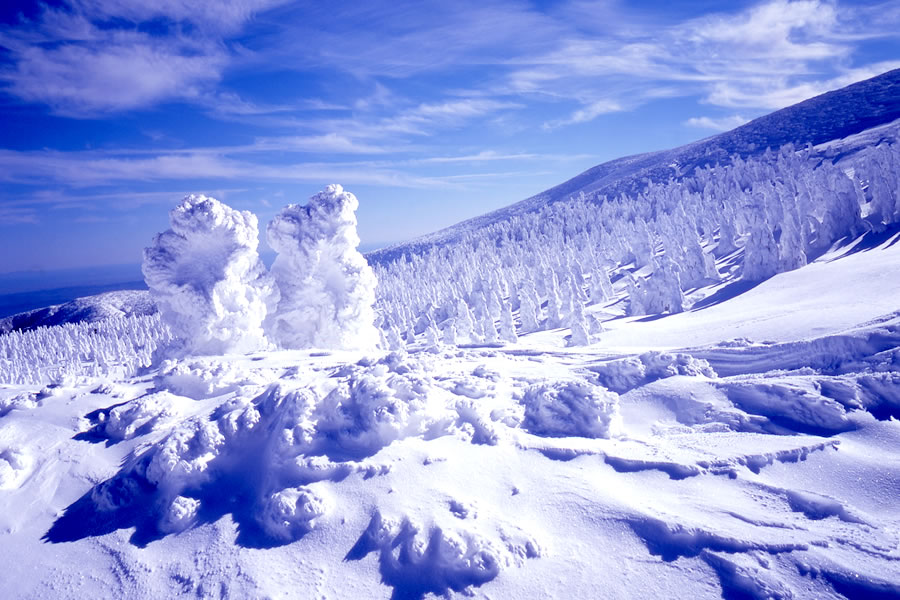 Ski, Snowboard
From long downhill courses extending for 10km at their longest, to the "Wall of Yokokura," with its maximum incline of 38 degrees, the winter attractions of Zao are concentrated in these epic and diverse ski slopes. Everyone from beginners to experts can have their fill of winter sports.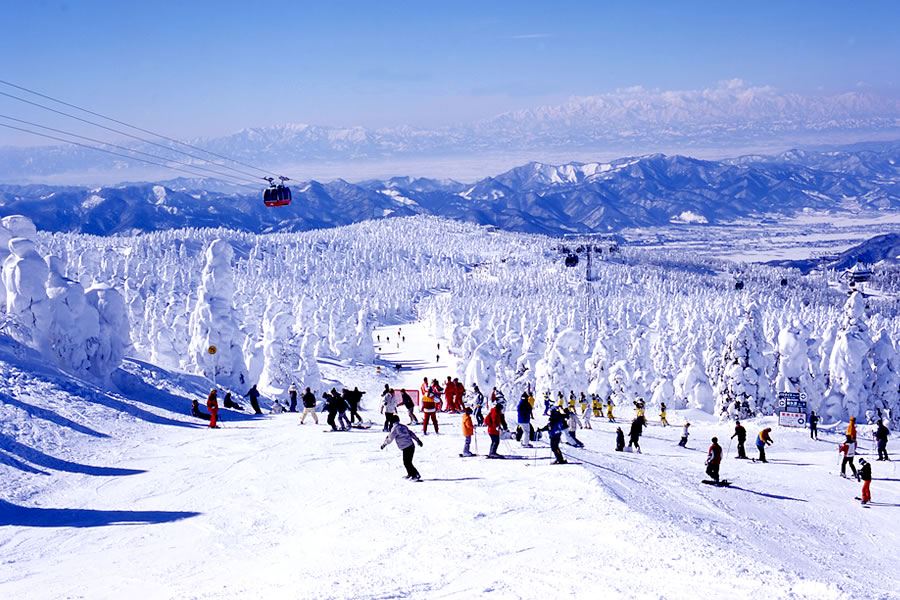 Snow Monster (Juhyo)
The frost covered trees, called "Juhyo," are labeled the "Snow Monsters." Zao is known throughout the world as a land where, among the many such places in Japan, especially large and beautiful juyho can be viewed. The annual "Zao Juhyo Festival" is a must-see event.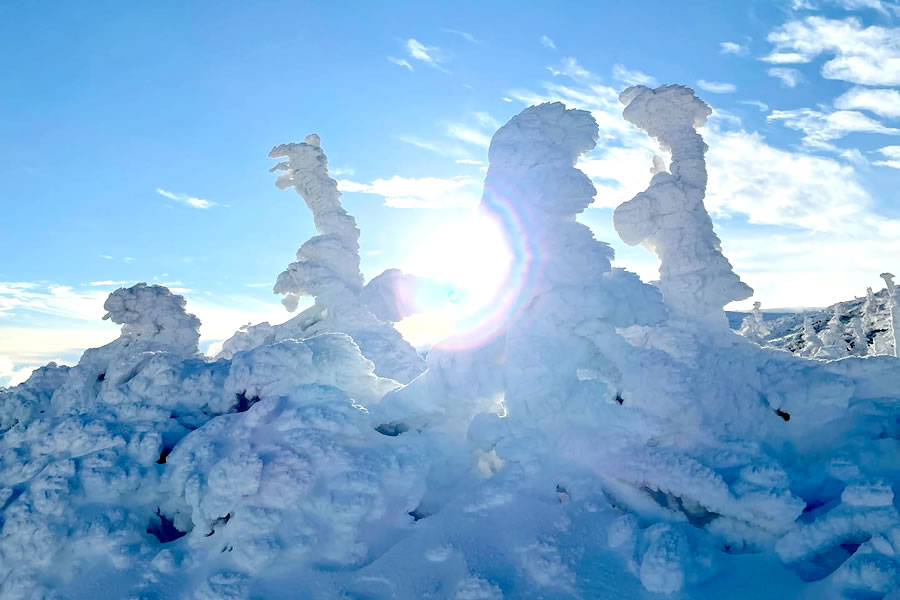 Zao Astraea Hotel
With easy access to the ropeway, this natural hot springs hotel links directly to the ski slopes. The view from the outdoor hot springs at the highest elevation of Zao are simply spectacular. It's a location that offers a breathtaking panorama to be enjoyed to your heart's content. We also boast wonderful omotenashi(a unique Japanese word meaning "hospitality") service from our staff and fine dining prepared by our experienced chefs using locally sourced ingredients.Visit Website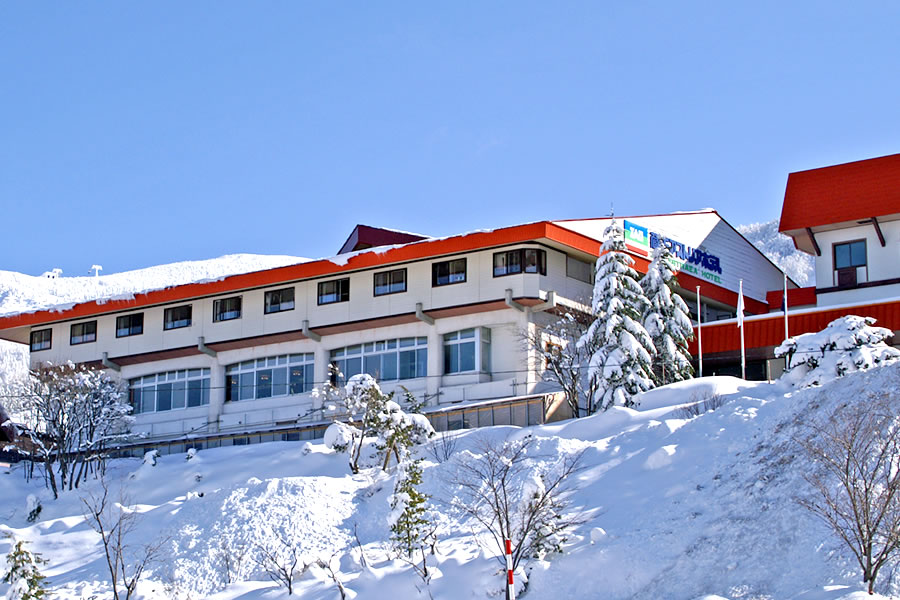 Ski & Snowboard Route Map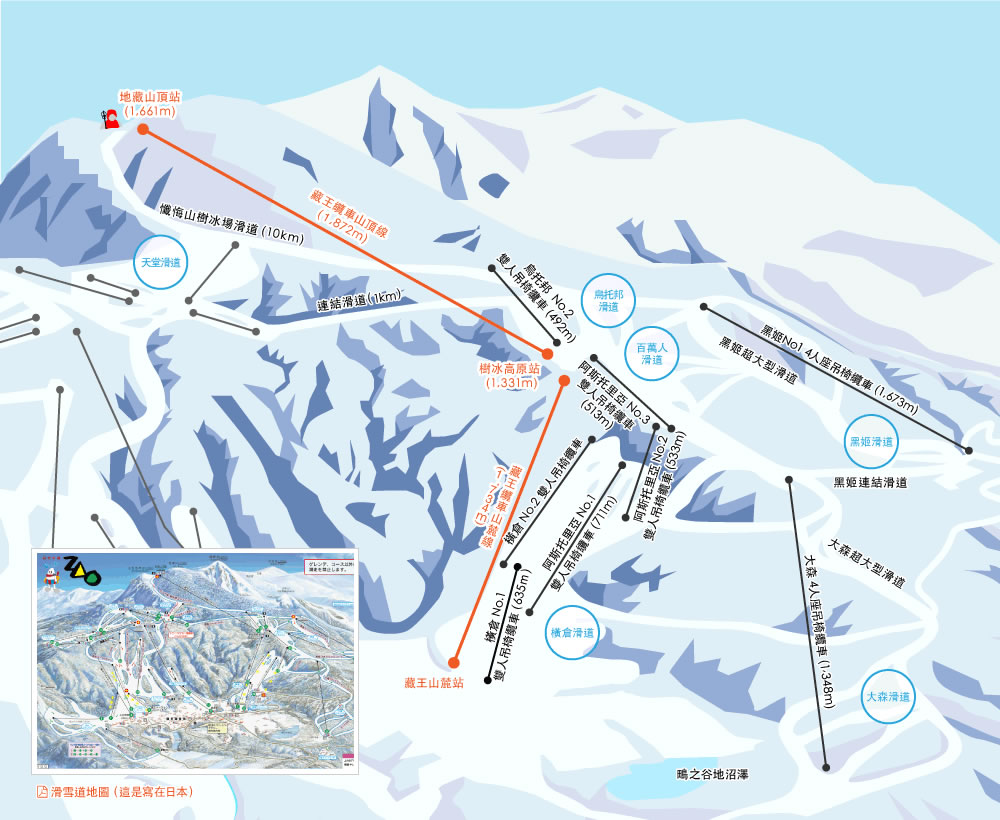 Snow Monster (Juhyo)
The Juhyo of Zao, which boast as one of the world's largest, are a mystic wonder of nature, with the Aomori white fir trees, a member of the conifer family growing in the subalpine zone, covered in blankets of snow and ice. As cloud droplets(supercooled water droplets) within snow clouds come into contact with branches and leaves, they freeze, forming shrimp tail-like shapes, and snow builds up in between the gaps, gradually hardening. As this phenomenon repeats itself, the creation of a masterpiece takes shape.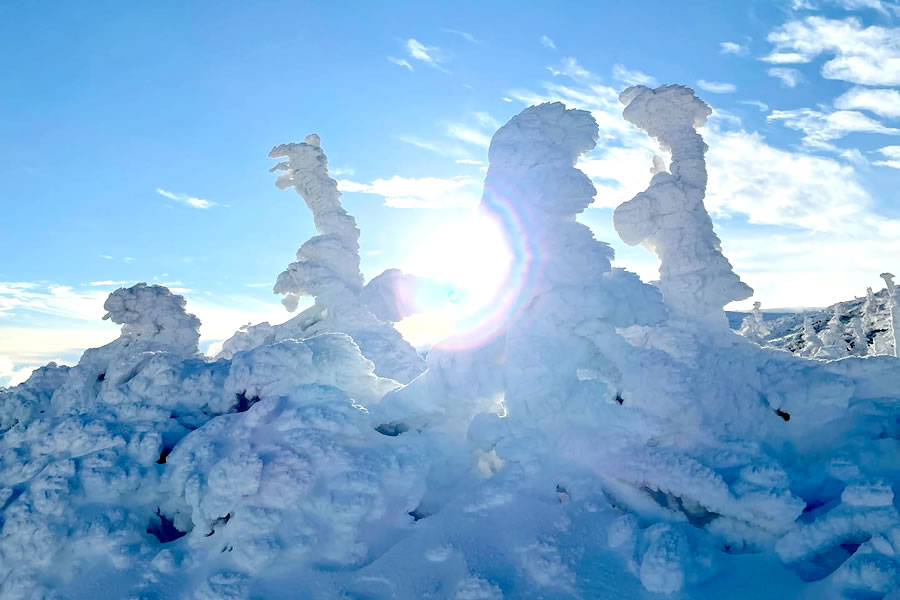 Juhyo Light-up
A light up of the Snow Monsters, the "Juhyo". The sight of these Juhyo, lit up and glowing with rich color, quietly and in the black of night, contrasts with their brilliant white and silver glimmering during the day, creating an atmosphere lost in the magic of a fantastically beautiful world. Riding on the specialized new model snowmobile "Nightcruiser," equipped with heating, you can experience the night spectacle of the lighted Juhyo from close up.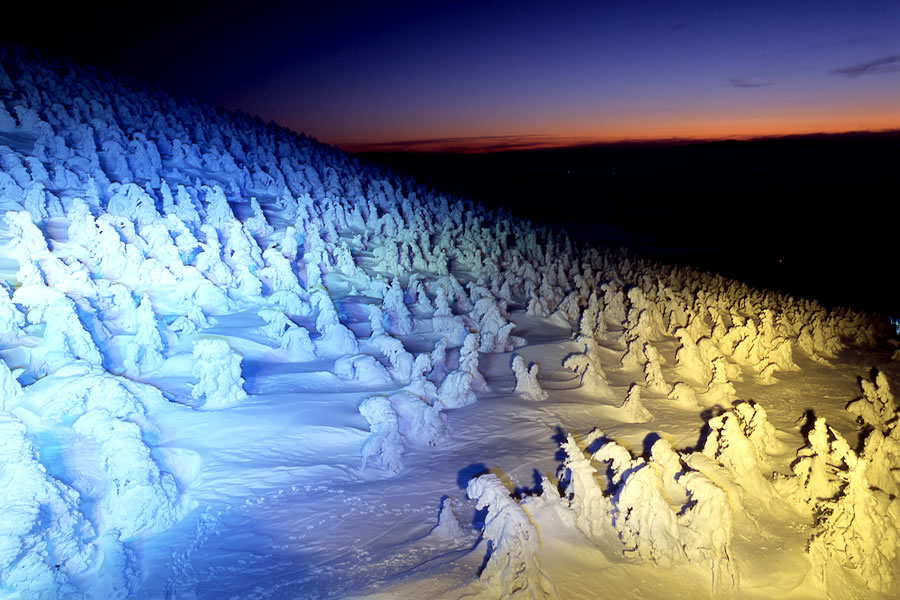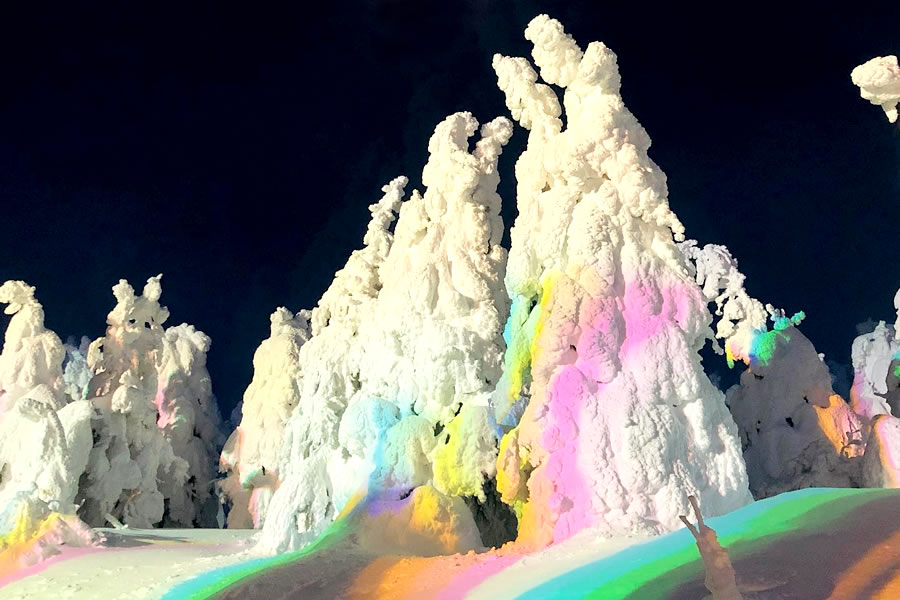 Utopia Ski School
Instructors who know everything about Zao in winter will properly share their knowledge about how to enjoy the slopes. Take their motto, "if the skiing is good, then everything is good," to heart, because their light-hearted and enjoyable instruction is one of our many attractions.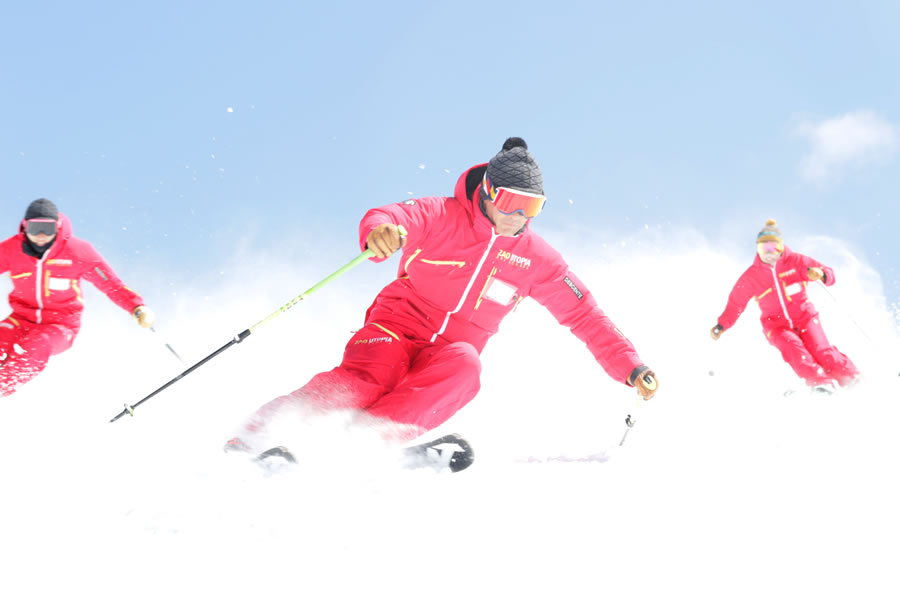 Rental Skis
At the ski center, we offer rentals for everything from skis and snowboards, to combination sets featuring snow gear and accessories. Rentals for half-days and discounts for consecutive days are available as well.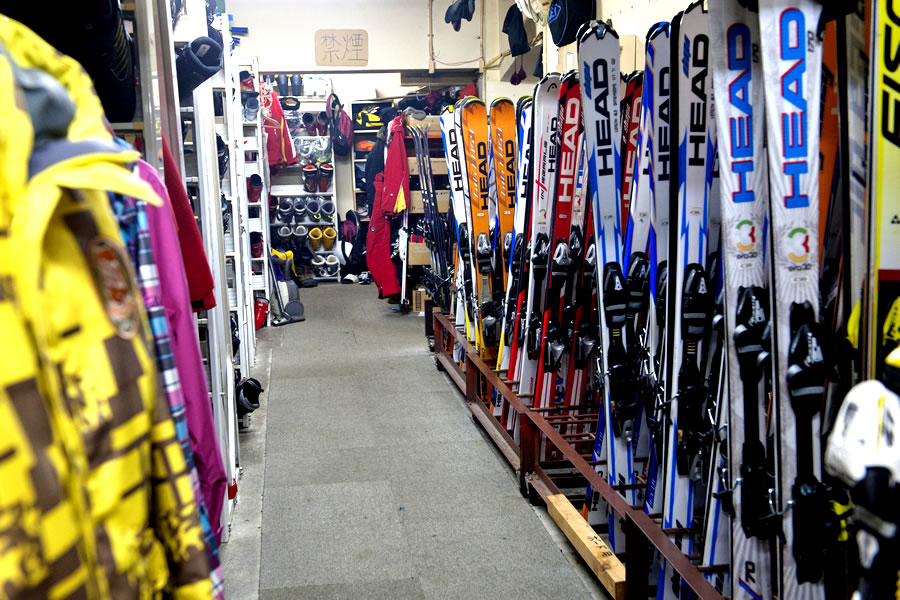 Restautant
Enjoy find dining with breathtaking views of nature, ever-changing with the seasons, from our restaurant featuring scenic views, "Sancho(The Summit)." During ski season, the hearty and filling ski slope restaurants "Todomatsu," "Kurohime," "Yokokura," and "Ōmori" are also popular.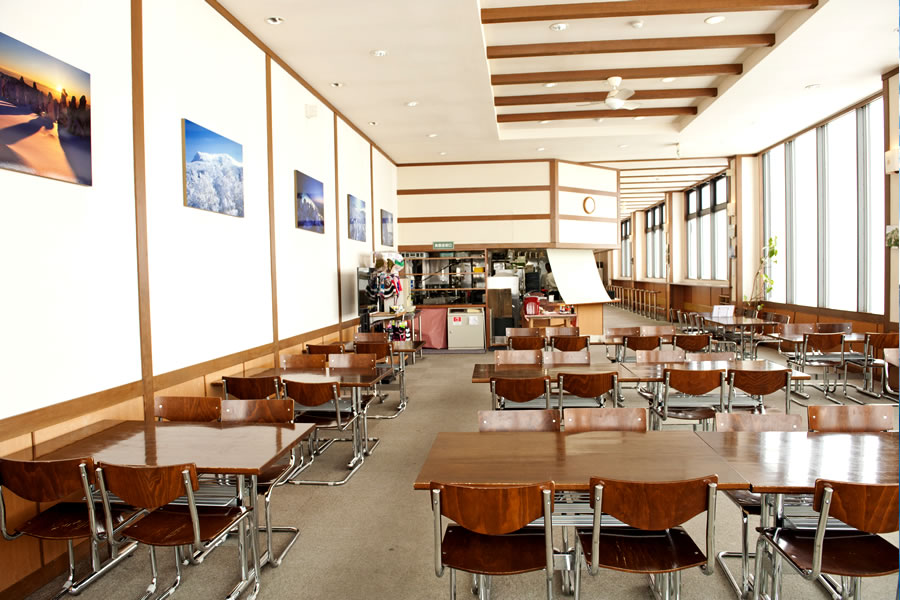 Fares, Hours of Operation, and Access
Ropeway fare
Destination
Classification
One way
Round trip
Attractions
Jizo Sancho Station
Altitude:1,661m
Adults
¥2,000
¥3,800
Zao natural botanical garden(Mt. Sanpokojin)
Zao Jizoson
Trailhead to Jizosan, Kumanodake and Kattadake
Children
¥1,000
¥1,900
Juhyo Kogen Station
Altitude: 1,331m
Adults
¥1,000
¥2,000
Iroha-numa swamp, Kansho-daira
Children
¥500
¥1,000
Jizo Sancho Station
Altitude:1,661m

Adults
One way ¥2,000
Round trip ¥3,800
Children
One way ¥1,000
Round trip ¥2,000
Attractions
Zao natural botanical garden(Mt. Sanpokojin)
Zao Jizoson
Trailhead to Jizosan, Kumanodake and Kattadake
Juhyo Kogen Station
Altitude: 1,331m

Adults
One way ¥1000
Round trip ¥2,000
Children
One way ¥500
Round trip ¥1,000
Attractions
Iroha-numa swamp, Kansho-daira
※Adults: more than junior high school students / Children: Elementary / Infant: preschooler
※Ticket refund fee: 100 yen per sheet
Hours of Operation
Winter(11 Dec. – 31 Mar.)
Sanroku Line 8:15-16:45
Sancho Line 8:30-16:30
Service schedule might be subject to change.
If crowded, provisional service goes into effect.
Service might be suspended due to weather conditions.
In regards to accompanying with pets
During the summer season, small-sized pets only will be allowed if kept completely inside a hard case cage, etc., and will be admitted for the price of a child's fare.
No pets will be admitted during the winter season.
Assistance dogs (seeing eye dogs, hearing assistance dogs, service dogs for the disabled), in accordance with "The Act on Assistance Dogs for Physically Disabled Persons," will be admitted free of charge.
Ropeway Stations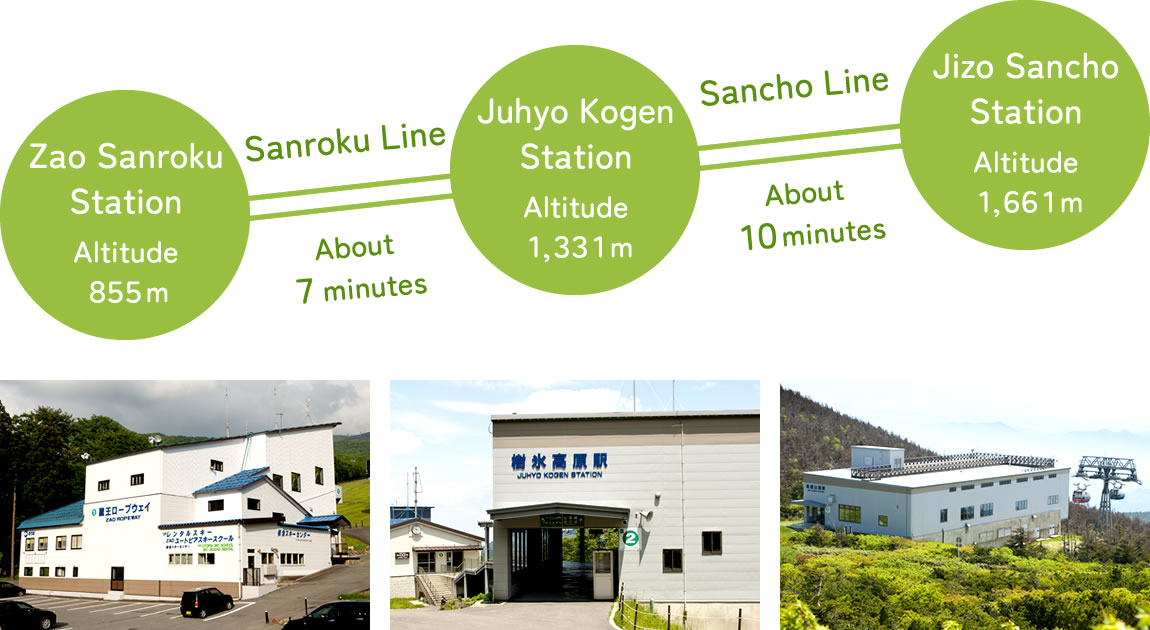 Access Routes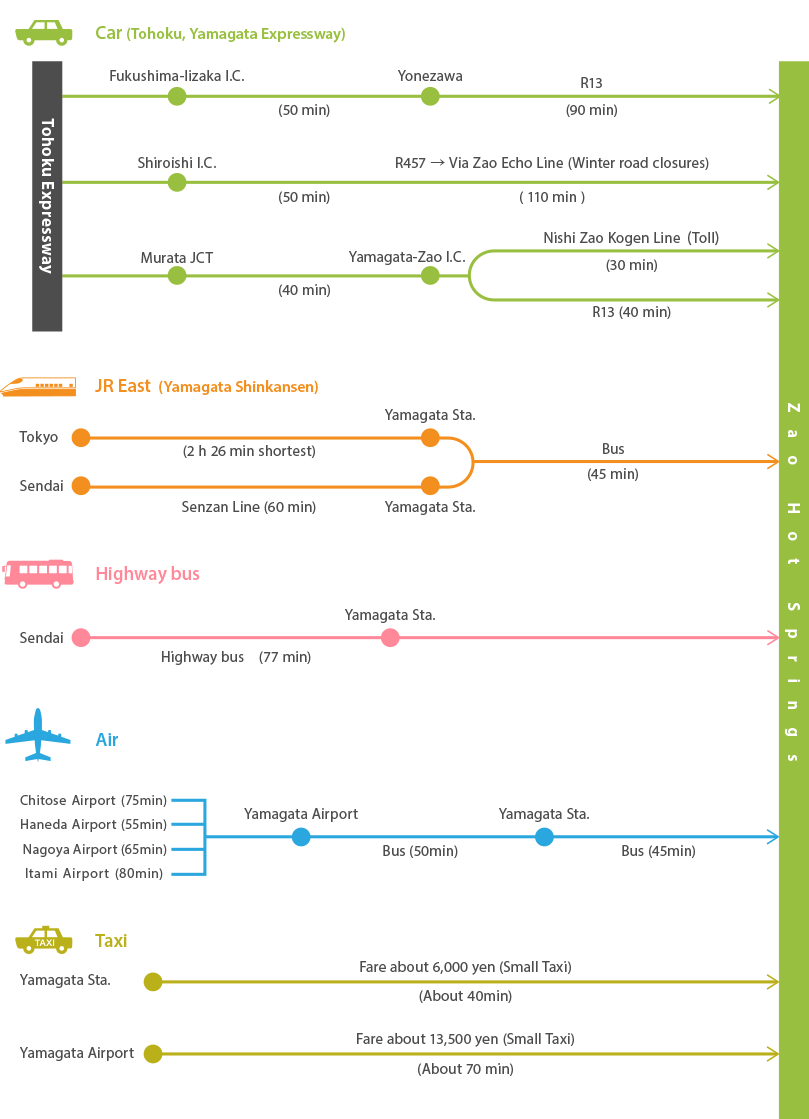 Access Map
Contact
Zao Ropeway
229-3 Zao onsen, Yamagata-city Yamagata-prif.
TEL:+81-23-694-9518
FAX:+81-23-694-9143