12月4日(月)~ ユートピア第2リフトは、滑走には不十分な積雪のため 『 運 転 休 止 』 とさせていただきます。また、ザンゲ坂樹氷コース・ユートピアゲレンデ・百万人ゲレンデ・横倉ゲレンデ・黒姫ゲレンデ・大森ゲレンデは『 滑 走 禁 止 』とさせていただきます。ご了承下さい。
ZAO
Visit the summit to experience the awe-inspiring power of nature with all your senses.
Spring is a lovely time, which allows us to encounter newly-awakened animals and plants. In summer, the night sky sparkles with countless stars. Autumn covers the mountains with red leaves and their aroma. Winter brings forth the frost, painting the trees white and creating a wondrous silver and white scenery. All four seasons offer soul-shatteringly beautiful, mighty vistas. Besides, each of them provides an opportunity for various activities. Visit Zao to experience the breath of mighty nature with all five senses.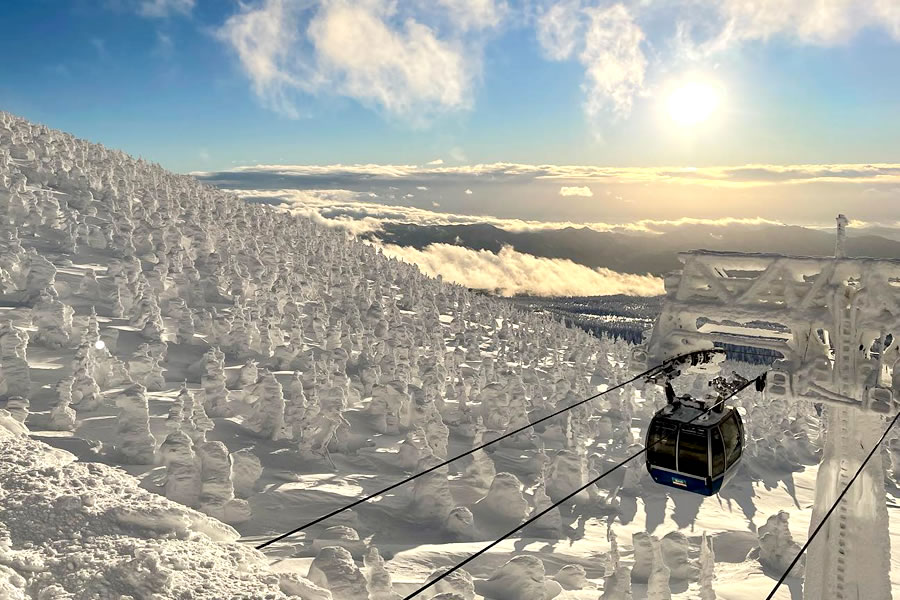 Green Season of ZAO
Trekking
Use the Zao Ropeway to bring yourself closer to trekking courses in the forests of Zao. From 30 minute courses for beginners and seniors, to 4 hour courses where you can explore every nook and corner of Zao, we have a variety of courses to choose from. Experience breathtaking scenery from our many viewpoint spots, alpine flora, and the diversely changing faces throughout the seasons of nature in Zao.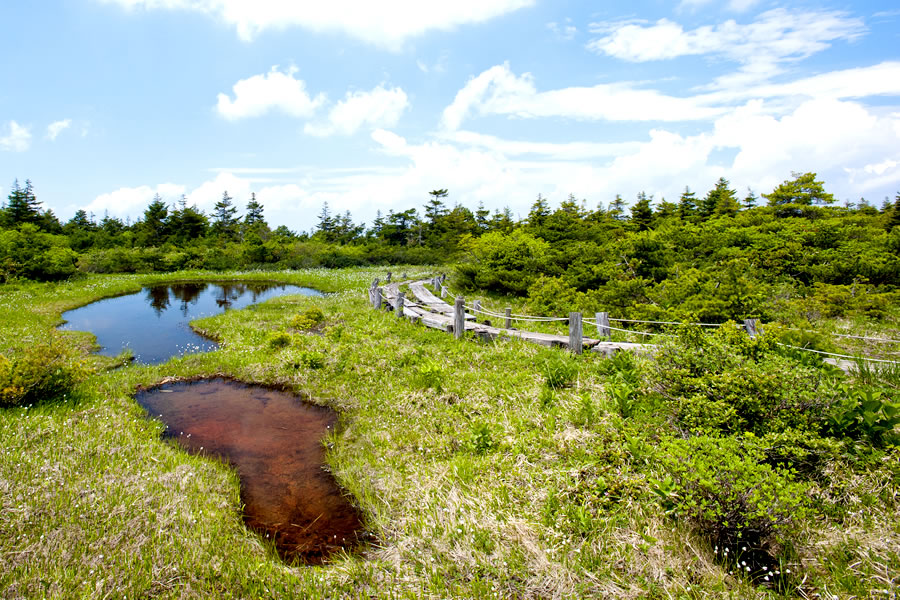 Time Guide for ZAO Trekking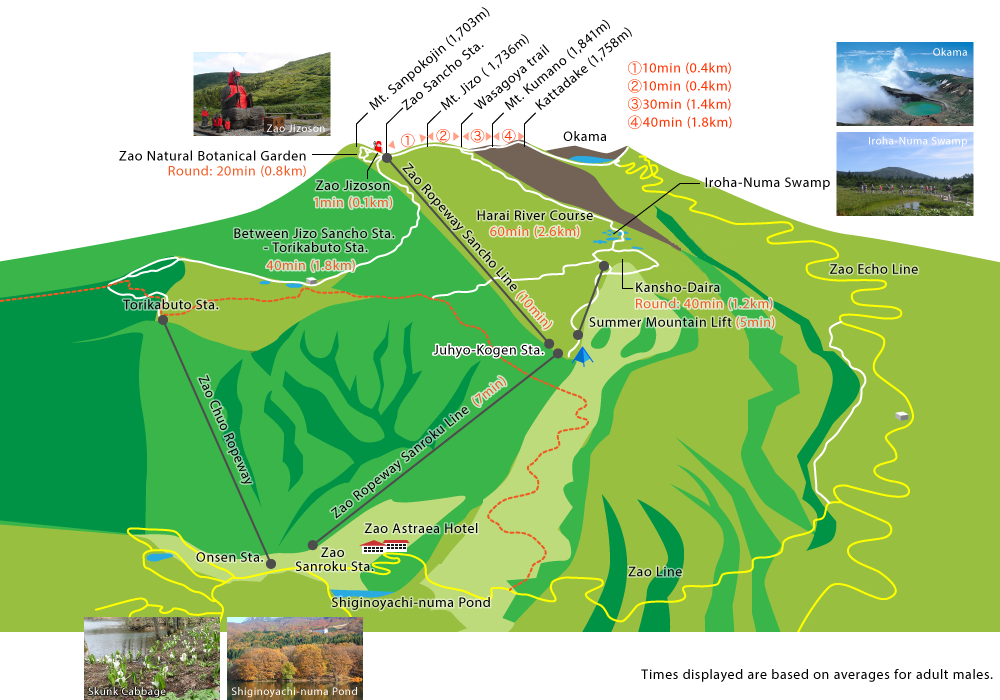 Summer Night Cruising
Summer Night Cruising is a special activity offered only during the summer season. A little expeditionary tour, featuring stargazing at the night skies from Zao Summit Station, and a visit to the jizo statues to make wishes for safety and success. As the ropeway glides through the night skies, your view of the constellations as you look up into the refreshing night air will transform into memories you will never forget.

Autumn Leaves
In the wide expanse of Zao in Yamagata Prefecture, you can experience the preparations that nature makes, step by step, as it transitions from late summer for the winter. The autumn leaves that slowly seep into color from the summit grow from yellow to orange, to red and then brick-red, in beautiful gradations, filling visitors' eyes with wonder. And viewing theses vivid autumn leaves from above is a spectacle only the ropeway can offer. Enjoy to your heart's content this world of masterpieces, painted in multiple rich autumnal colors.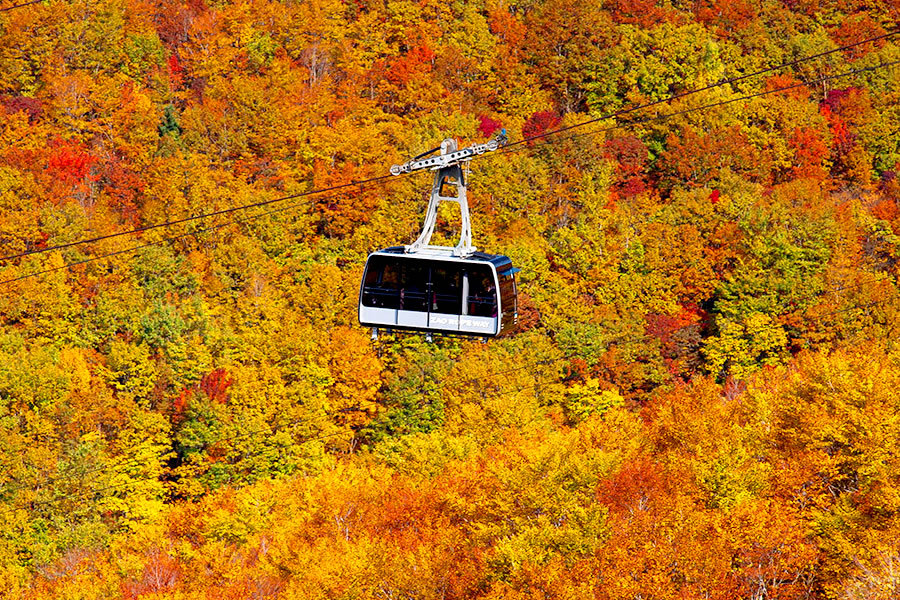 Gallery of Green Season
フォトギャラリー保留
Fares, Hours of Operation, and Access
Ropeway fare
Destination
Classification
One way
Round trip
Attractions
Jizo Sancho Station
Altitude:1,661m
Adults
¥2,000
¥3,800
Zao natural botanical garden(Mt. Sanpokojin)
Zao Jizoson
Trailhead to Jizosan, Kumanodake and Kattadake
Children
¥1,000
¥1,900
Juhyo Kogen Station
Altitude: 1,331m
Adults
¥1,000
¥2,000
Iroha-numa swamp, Kansho-daira
Children
¥500
¥1,000
Jizo Sancho Station
Altitude:1,661m

Adults
One way ¥2,000
Round trip ¥3,800
Children
One way ¥1,000
Round trip ¥2,000
Attractions
Zao natural botanical garden(Mt. Sanpokojin)
Zao Jizoson
Trailhead to Jizosan, Kumanodake and Kattadake
Juhyo Kogen Station
Altitude: 1,331m

Adults
One way ¥1000
Round trip ¥2,000
Children
One way ¥500
Round trip ¥1,000
Attractions
Iroha-numa swamp, Kansho-daira
※Adults: more than junior high school students / Children: Elementary / Infant: preschooler
※Ticket refund fee: 100 yen per sheet
Hours of Operation
Summer(1 Apr. – 10 Dec.)
8:30-17:00
Service schedule might be subject to change.
If crowded, provisional service goes into effect.
Service might be suspended due to weather conditions.
In regards to accompanying with pets
During the summer season, small-sized pets only will be allowed if kept completely inside a hard case cage, etc., and will be admitted for the price of a child's fare.
No pets will be admitted during the winter season.
Assistance dogs (seeing eye dogs, hearing assistance dogs, service dogs for the disabled), in accordance with "The Act on Assistance Dogs for Physically Disabled Persons," will be admitted free of charge.
Ropeway Stations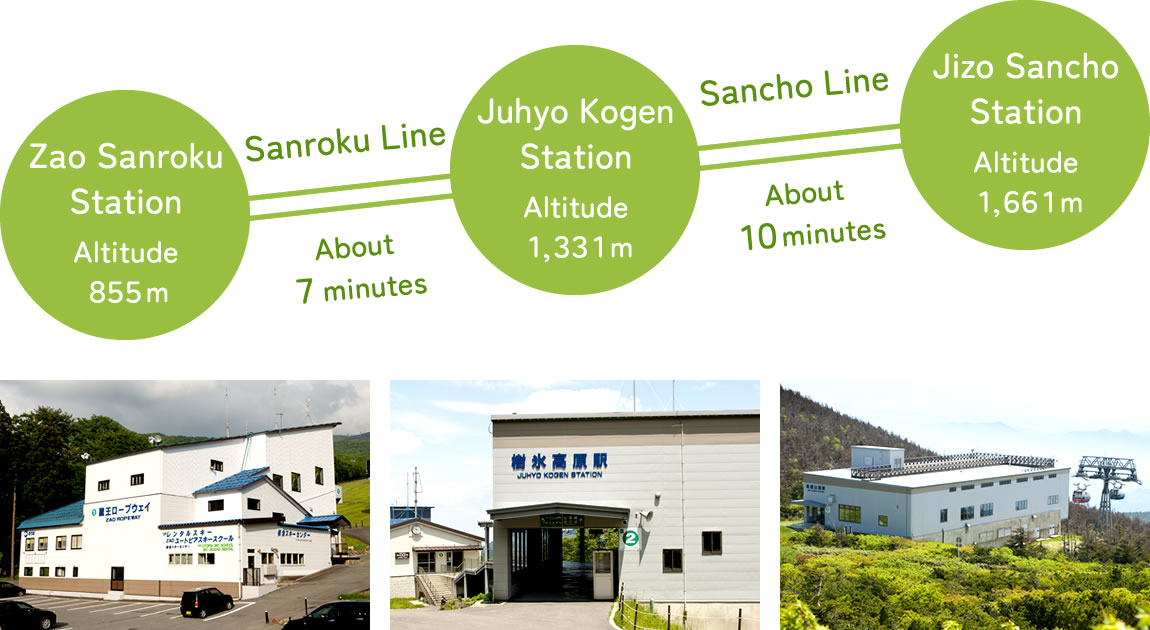 Access Routes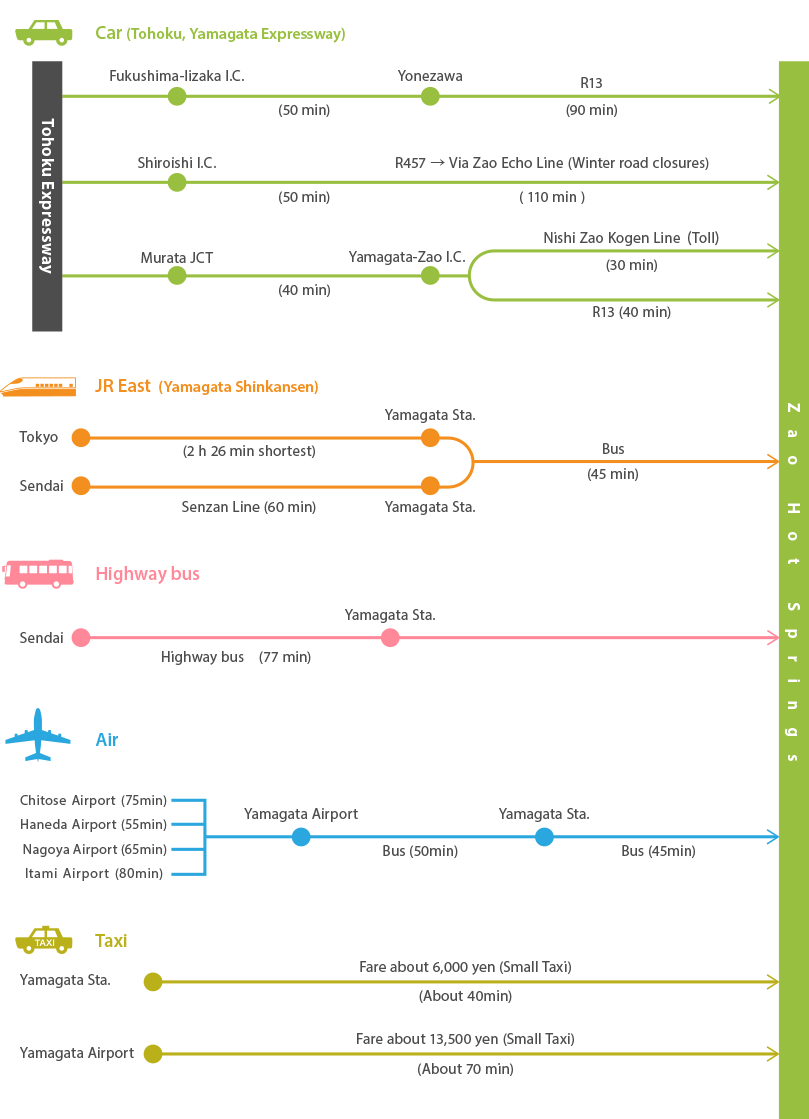 Access Map
Contact
Zao Ropeway
229-3 Zao onsen, Yamagata-city Yamagata-prif.
TEL:+81-23-694-9518
FAX:+81-23-694-9143